You are here: Home : Front Doors & Awnings : Front Entrance Doors
(Can't see menu? Allow ActiveX controls!)
Hormann Front doors information and pricing
Hormann Front Doors are very popular and secure entrance doors. Hormann provide quality Front doors and Sectional garage doors that match. We install and deliver to you at competitive prices. We handle residential front garage door installations and DIY Hormann products and doors. DIY Garage Doors are a quality Front and Garage Door supplier to the UK, especially South East and London. We offer a full range of Hormann front entrance security secure doors for your House. View all the different styles, handles, glazing and delivery options for your Hormann Front Door. DIY Garage Doors UK offer many popular makes and models such as Hormann and Gliderol, and a range of Sectional and Roller Garage Doors. Search Engine Optimisation by Commercetuned.
Available models
Designs and styles
Quality Features
Delivery
Download Brochure
Choosing the correct size


Hormann's new range of Front Doors bring style, quality and security to a whole new level.

A stylish product in it's own right, the Hormann Front Doors can also be selected to match and complement your garage door.

Hormann have an excellent reputation both for making good products and supporting them well. Technical support, service and warranty backup are all outstanding and this gives us the reasurance that we are selling a good product with good warranties that isn't going to let you down



Available models:
There are 3 different types of door leaf construction.
"A" is the code for the Top Comfort where the aluminium design panel is fitted within the door leaf frame giving the effect of an inner and outer frame.

"K" is for the same construction as "A" but with a UPVC design panel

"AF" is the code for the Top Prestige construction, which is an aluminium design panel that covers the door leaf frame so that from the outside you see just one frame, this can also be embellished with a rounded edge profile to match, that further enhances the design. The Top Prestige construction is the top of the range.
Back to top
Designs and styles:
Below are images of the styles available, please contact us for pricing and sizing information.
Click the images for further design and pricing details (opens in new window)
| | | | |
| --- | --- | --- | --- |
| | Elegance Range: Tasteful curves and styling | Vogue Range: Designs to stretch your imagination | Matchmaker Range: To create a continuity of style with your garage |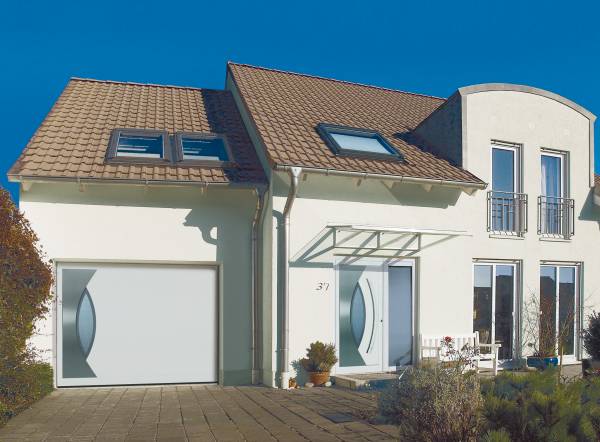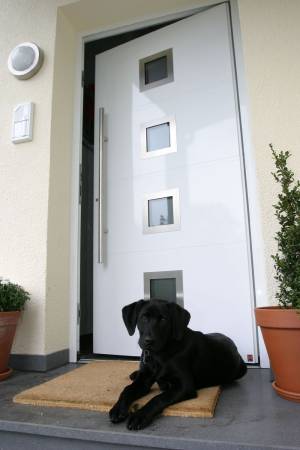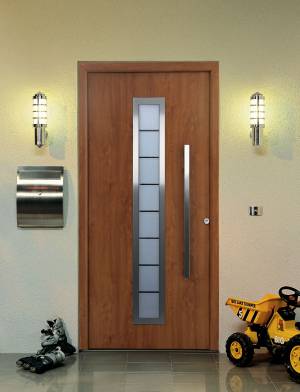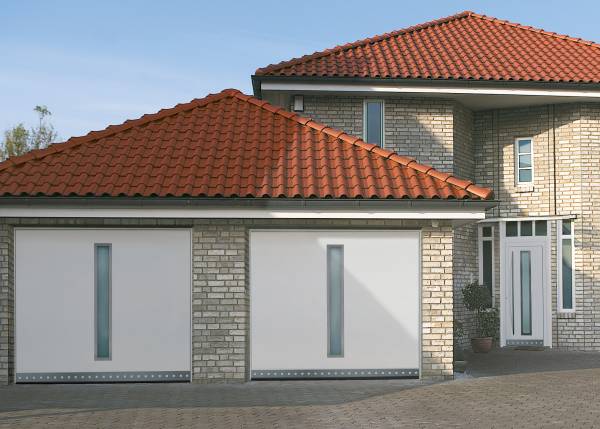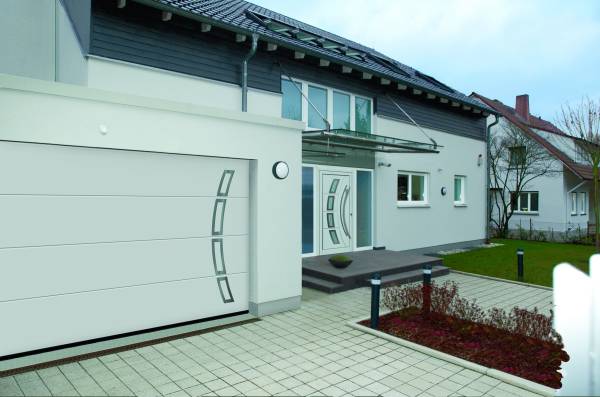 Quality Features:
Hormann house front doors are built to the very highest quality standard. Designed to not only compliment your home but to also add that level of safety, security and thermal insulation that you need for your family.
Profiles
The aluminium extruded profiles are made of AIMgSi 0.5-F22 to DIN1725. High thermal insulation is achieved by means of well secured, shear resistant connecting pieces made of polyamide 6.6. 25% GRP, Uf value =2.0W/m2K. The profile dimension is 80mm.
Security
Stainless security bolts are fitted on the hinge side of the door leaf so that when the door is closed they lock into the structural frame. Each door is fitted with a high security profile cylinder manufactured to EN1303/DIN18252 standard, the key is a reversable type to DIN EN1309 standard (5 keys are included). The lock plate is manufactured from 3mm thick stainless steel and is prepared for an electric opener. Also a 5 point espaniolette locking system is provided as standard (H5) with a drill-resistant security cylinder rose escutcheon on the outside.
Thermal sealing
The sealing is made from EPDM in black: between the structural frame and the door leaf is a 3 sided double EPDM buffer sealing. At the bottom of the door is a double lip EPDM buffer seal in conjunction with a thermally insulated aluminium threshold in E6/EV1. Top Comfort and Top Prestige doors fulfil the requirements of the energy saving regulation EnEV 2002.
See more details on these features.

Back to top
Delivery:
Delivery times vary slightly depending on the exact specification of the door: typically 6/8 weeks.
Download Brochure:
Hormann's Front Entrance door brochure is available for download and contain stacks of detail on these doors. Further brochures as they become available.


DOWNLOAD - 52K - PDF file

DOWNLOAD - 250K - PDF file
Choosing the correct size:
Hormann Front doors are made to measure typical minimum dimensions are 850mm wide x 1900mm high. Call for details.
Confused?!? Give us a ring!